Sweet and Spicy
A Celebration of Romance
MRWG anthologies Book 1 – The Sweet and Spicy anthology is a collection of love stories and romance fiction, from the Melbourne Romance Writers Guild, a group of Australian authors. Coordinated by Jennifer Lynne, the collection includes contemporary, historical, paranormal, sweet to erotic short stories. For 25 years the Guild has supported romance genre authors as they strive towards publication and beyond. Enjoy a taste of romance from new authors, many previously unpublished.
Includes my short story entitled Baby Did a Bad Bad Thing. Sophia had a court case on her mind, but a chance encounter with ruggedly handsome and sexy Romeo was threatening to distract her. Should she give in to his charm, or kick him to the curb?
Title
Sweet and Spicy: a Celebration of Romance
Authors
Melbourne Writers Guild, Michelle Somers, Andra Ashe, Rita Azar, Tamsin Baker, Savannah Blaize, Dora Bramden, Jess Devine, Janis Linford, Antonina Mtanu, Cassandra O'Leary, Samara Parish, Elvina Payet, R. Phoenix, Eliza Renton, Katerina Simms, Maggie-Ann Smith, Louisa Valentine, P. Vye
Publisher
CreateSpace Independent Publishing Platform, 2016
ISBN
1534975098, 9781534975095
Length
352 pages
Pleasures Exotic by Andra Ashe
The Artist by Rita H. Azar
The Alpha in Her by Tamsin Baker
Baby Did a Bad Bad Thing by Savannah Blaize
A Wife for the Orange Farmer by Dora Bramden
Heart's Symphony by Jess Devine
The Painted Courtesan by Janis Linford
The Blind Date by Antonina Mtanu
Chocolate Truffle Kiss by Cassandra O'Leary
The Soldier's Duchess by Samara Parish
Breakfast at Midnight by Elvina Payet
Goddess of Fire by R.L. Phoenix
In Time by Eliza Renton
Life Begins at Christmas by Katerina Simms
Truth, Love and Lies by Maggie-Ann Smith
Cold Case Warm Heart by Michelle Somers
Gentle On Her Mind by Louisa Valentine
Orphan Road by P.J. Vye
"I gave this five stars because it was so much more than I expected. I don't usually read anthologies of short stories … the appeal of this book was the ingenuity displayed by a group 18 authors who could develop and tell so many different versions of convincing relationships."
– Louise Wilson
"Sweet and Spicy: A Celebration of Romance is a collection of stories from several authors. It's part of the 'Melbourne Romance Writers Guild-Silver Anniversary Anthology.' The best thing about this book is that it offered many different stories. Each one was short enough, and gave the reader just a bite of what the story was about. If you're pressed for time and like to read short novellas you'll really enjoy this book. The book is rated in Chilli Ratings depending on the 'heat' aka hotness of the stories. So if you like not so hot love scenes you get a one or two rating. At three chillies you start getting some explicit scenes. Four chillies frequent sexual scenes and more graphic language, and Five chillies is super HOT and SPICY. If you like reading just a little bit of love don't read anything higher than three, but if —-like me—- you like reading a little bit more erotic scenes you'll be able to handle a higher rating. Very enjoyable."
– Alexia Janie
"A great collection of short stories from 18 Aussie authors that spans the whole gamut of romance, from ultra-sweet to super-spicy. There is something for every romance reader in this collection – I thoroughly enjoyed these heartwarming stories."
– Jennifer Lynne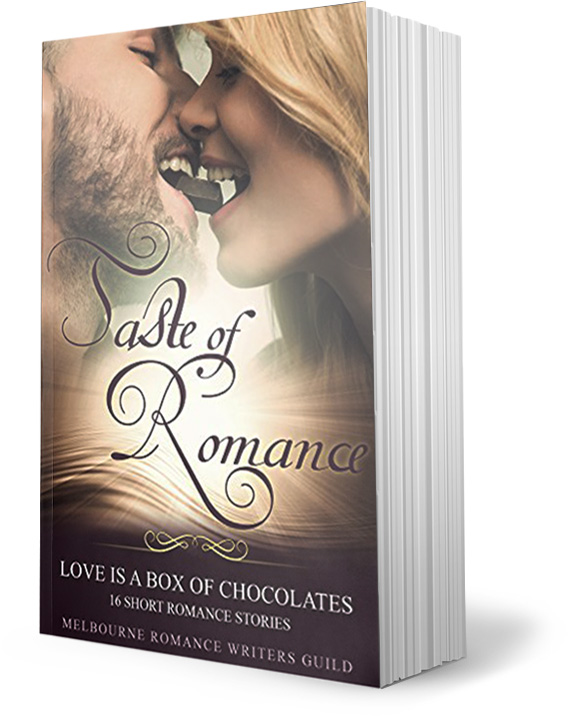 Taste of Romance
16 short romance stories
MRWG anthologies Book 2 - Taste of Romance is a collection of love stories and romance fiction from members of the Melbourne Romance Writers Guild. The anthology spans many facets of romance, from contemporary to historical, romcom to suspense, with heat levels ranging from sweet to erotic. These works are a celebration of the past 26 years of encouragement and support the Guild has given to romance authors as they journey toward publication and beyond.
Love is a box of chocolates – treat yourself to a delicious assortment of sixteen romance flavours from new and established authors.
Includes my short story; Knight in Shining Combat Boots. Harrison Blake is a former soldier and when he disarms a man with a knife on the subway he receives gratitude from Laura Moretto, whom he saved. As the attraction between Laura and Harrison meets he walks away from her knowing she is leaving the next day and he is after more than one night.
Title
Taste of Romance: 16 short romance stories
Authors
Melbourne Writers Guild - Savannah Blaize, Lauren James, Cassandra O'Leary, Michelle Somers, Fiona Miers, Dora Bramden, Andra Ashe, Kim Cleary, Charmaine Ross, Samara Parish, Jess Devine, Nina Mtanu, Josie Chiara Caporetto, Sandra Damevski, Bridget Kaye, Maggie Ann Smith
Publisher
Amazon Digital Services LLC
ASIN
B01N115NAM
Length
262 pages
One Thing On Her Mind By Sandra Damevski
Knight in Shining Combat Boots By Savannah Blaize
Unfreezing Lucy By Kim Cleary
Love Interrupted By Lauren James
Beyond a Glance By Bridget Kaye
Tree Love By Cassandra O'Leary
Operation Marriage Restoration By Charmaine Ross
Return to Redwood Valley By Jess Devine
The Puella in a Toga By Josie Chiara Caporetto
Moving On Backwards By Fiona Miers
The Marriage Bargain By Maggie-Ann Smith
Skin on Skin By Andra Ashe
Brave in Love By Dora Bramden
Light in the Snow By Samara Parish
A Mate at Last By Nina Mtanu
"I really enjoyed this one so many fabulous stories there really is something to please everyone loved the rating system for each story lets you know before you start if you need a fan and glass of ice water.... I enjoy anthologies because it often leads to finding new authors that will make me smile. I can highly recommend this one I am sure you will be turning the pages and finding authors that will sweep you away on a romantic journey each story is great for a quick satisfying read. Thank you Ladies for the fun times I have read a few of these authors before and now I have a few more to watch out for."
- Helen Sibbritton
"With sixteen short stories, each written by a different author, there will be something for everyone in this collection. The stories range from sweet to sexy and include a variety of romance sub-genres. Each story is the perfect length to read in one sitting. Lots of new to me authors who I'll be keeping an eye out for in the future."
- Renee
"An amazing mix of stories from Australian authors. An eclectic mix of content. With a chocolate rating on each story allowing readers to determine if each story is right for them, with sweet romance and no love scenes to graphic love scenes I felt there was something in this box set for all romance lovers. I loved all the stories, at least one left me scratching my head afterwards with it's twists and turns and strange ending. However in saying that other stories had be sighing out loud with a massive smile on my face with their happy endings. Again I found this set to be a fun mis up of Australian Authors that gave me a taste and wanting so much more."
- Miranda Beazley
Looking for more?
Visit the blog for short stories, musings and more.